Posted on: December 1, 2020
Christmas 2020 at Anawim House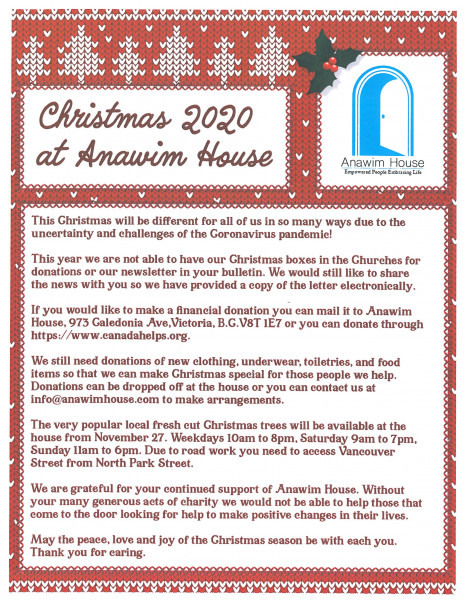 Please click here to read our brochure
Posted on: November 25, 2020
Instead of Shoeboxes This Year...
Hey everyone!
Last year we provided about 115 "New Beginnings" boxes to a local transition house through the the Shoebox project with your help and support - it was AMAZING.
This year the Shoebox project is not running due to Covid, so I have reached out to some local care homes and have committed to putting together about 100 gifts for seniors who have no family and therefore no visitors and also no outings these days. They are a group who are really feeling the sting of Covid and I know we can bring them some joy. Seniors are a group near and dear to my own heart and I'm sure yours too.
I have a list (more specific than usual) of items we need to fill their gift bags. If you would like to participate either by shopping or by sending me money to do the shopping on your behalf, your help is greatly appreciated!
We have a group of younger residents (average age 59) and a group of older residents (average age 87) - a mixture of approximately 50% men and 50% women. The facilities have given me some really specific guidelines.
If you like to shop, here is a list of some items that would be helpful:
Assorted Seed Packages for Spring Gardening (need 50-100 and a variety)

NEW Photo or "Coffee table" style books ...like National Geographic /travel/ animals/ trains/ cars/ British Royals/United Kingdom etc (a lot of our residents are from the UK).

NEW colorful lap blankets or throw blankets - not too bulky - that can be washed in warm/hot and put through the dryer.

Small decorative items like a little gnome, a snow globe or a pretty toss cushion.

Cozy & washable MENS socks with non slip grips on the bottom
If you'd like to help out either by shopping or by providing funds for me to shop, please just let me know and we can sort out how I will get things from you - things are more complicated these days and I am REALLY missing being able to go into the schools to chat and visit and meeting people for coffee but we will figure it out. Thank you in advance for any help you can offer!
Please drop off donations to the St. Joseph the Worker Parish Office
by December 8th. (corrected date)
Brenda
250-480-9005
brenda_newton@telus.net
Posted on: November 24, 2020
K of C 59th Annual Charity Appeal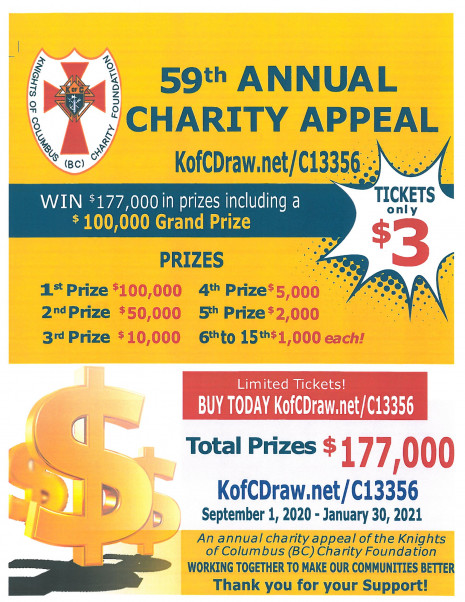 Due to COVID-19 the Charity Appeal Program for this year has moved to an on-line platform. Funds raised under this program are donated to a variety of K of C charitable causes at the provincial and local Victoria levels.
Thank you for your support.