St. Joseph The Worker Parish

Parish Office Regular Hours
Tue - Friday: 8:30am - 3:30pm
Sat, Sun, Monday: Closed
Please be advised that all Masses attended in person at the church remain suspended until February 5th 2021, due to the latest announcement issued on January 7th by Dr. Bonnie Henry and the Ministry of Health.
Mass continues to be live-streamed
Every Saturday at 6:00 pm
Masks are now required upon entering the premises.
Posted on: January 21, 2021
Invitation to St. Joe's and Sacred Heart Parishioners

Jesus: The Way, the Truth, and the Life
Jesus is our Savior, our Redeemer, our Lord, and our God. Our belief in Jesus is what makes us who we are as Catholics, as Christians, but do we really know Him as we should? We invite you to make him the center of your life by joining us for Jesus: The Way, the Truth, and the Life, a 10-week video study program that explores the entirety of Jesus' life and what He means for us today. Parishioners of St. Joseph The Worker and Sacred Heart are invited to gather remotely on Tuesday evenings at 7:30pm, starting on February 16. Participants will meet every week to view an engaging video presentation by Marcellino D'Ambrosio, Jeff Cavins, and Edward Sri, followed by a group discussion. For more information or to register, email Deacon Michael at: mailto:mwatkins@telus.net
Posted on: January 19, 2021
Week of Prayer for Christian Unity (January 18 - 25 2021)
Greetings,
The Week of Prayer for Christian Unity is being celebrated this week from January 18-25, 2021. The theme for this year is: "Abide in my love and you shall bear much fruit" (John 15:5-9). Local and international resources are available online, placing a particular emphasis on the call to pray and work for reconciliation and unity in the Church, with our human family, and with all of creation.
The Pontifical Council for Promoting Christian Unity and the Commission on Faith and Order of the World Council of Churches jointly developed the international resource with the Monastic Community of Grandchamp in Switzerland, a group of religious sisters from different church traditions brought together by a common vocation of prayer, community life and hospitality and by their commitment to Christian unity. The material for Canada was adapted and produced by an ecumenical writing team coordinated by the Commission on Faith and Witness of the Canadian Council of Churches (CCC).
Bishop Gary Gordon participated in a special recorded joint service with our regional ecumenical colleagues in the Anglican Church of Canada, and the BC Synod of the Evangelical Lutheran Church in Canada. We are grateful to the Communications team at Christ Church Cathedral in Victoria, who shared their resources and taped the remote service for the benefit of all.
The recorded service in our Diocese may be accessed via the link:
The Vatican website is offering a daily reflection and further resources may be accessed via:
May we continue the grow in faith and understanding of the commandment to "love one another as I have loved you" as we celebrate the Week of Prayer for Christian Unity.
Many thanks and blessings,
Cynthia Bouchard, Chancellor
Diocese of Victoria
Posted on: January 11, 2021
Upcoming Events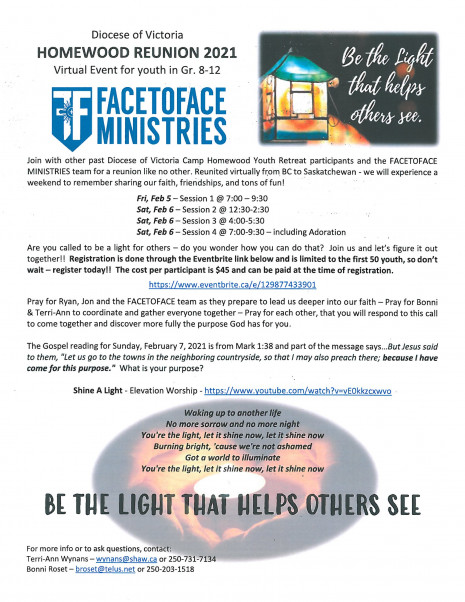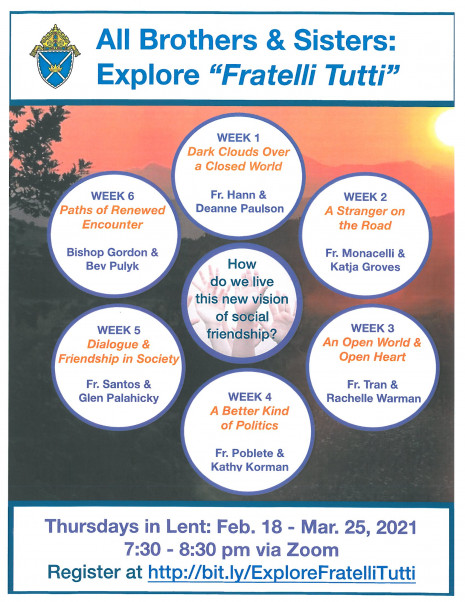 CCCB - Resources
The CCCB collaborated with Salt+Light to produce and broadcast a special program entitled "A Catholic Response to Bill C-7". The English and French programs are available on the Salt+Light website at the following links:
Please find attached an important fact sheet regarding Bill-C7 and Euthanasia in Canada prepared by the Catholic Women's League.