St. Joseph The Worker Parish

Parish Office Regular Hours
Tue - Friday: 8:30am - 3:30pm
Sat, Sun, Monday: Closed
Please be advised that all Masses attended in person at the church remain suspended until February 5th 2021, due to the latest announcement issued on January 7th by Dr. Bonnie Henry and the Ministry of Health.
Mass continues to be live-streamed
Every Saturday at 6:00 pm
Masks are now required upon entering the premises.
Posted on: January 9, 2021
Directives - Provincial Health Order extended until February 5, 2021
As you may know on Thursday, January 7, 2021, Minister of Health Adrian Dix, and Provincial Health Officer Dr. Bonnie Henry extended the Provincial Health Order currently in place with restrictions to curb the spread of COVID-19 until February 5, 2021. Therefore, the Directives previously issued have been extended and remain in place in the Diocese. Please click on attached Memo from Bishop Gordon:
Posted on: January 8, 2021
Upcoming Events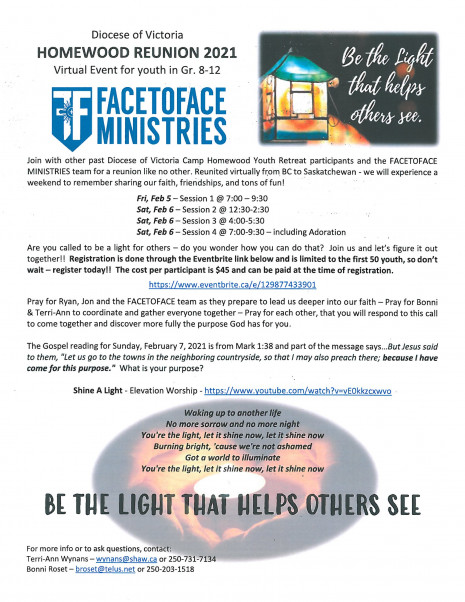 Posted on: December 24, 2020
Christmas message from Bishop Gary Gordon
Greetings,
The Gospel Reading from Luke (1:67-79) reminds us that the "dawn from on high will break upon us" as we look to the horizon of hope. As we enter the Christmas Season and celebrate the birth of Jesus Christ, may we be ever mindful of the ways the Lord manifests the presence of God among us. "O Emmanuel", Come Lord Jesus!
Please find below the link to the Bishop's Christmas video message:
CCCB - Resources
The CCCB collaborated with Salt+Light to produce and broadcast a special program entitled "A Catholic Response to Bill C-7". The English and French programs are available on the Salt+Light website at the following links:
Please find attached an important fact sheet regarding Bill-C7 and Euthanasia in Canada prepared by the Catholic Women's League.
Pastoral letter, Revised Directives, Liturgical Directives, Contact Tracing
As we journey through the uncertainty of the Fall and winter months ahead, may we remain grateful for the limited opportunities we have to gather while respecting the Revised Directives (October 19, 2020) to ensure the well-being of those in our midst.
Please click on the links below to read the Revised Directives:
Pastoral_Letter from Bishop Gary Gordon
Revised General Directives (revisions are indicated in bold and italics)
Revised Liturgical Directives (revisions are indicated in bold and italics)
Contact Tracing for Parishes (new form for non-registered parishioners and visiting guests)