Welcome to Children's Religious Education!
Registration is open for all Families for Catechism Year 2018/2019 At St. Joseph the Worker Parish!
We have classes available for Children in Grades 1 to 5. However, we do desperately need someone to volunteer to teach the grade 1 class. Please see Reine Mykyte if you are interested in volunteering. You will have support from the rest of the Catechism team.
Classes will again be held on Sunday Mornings before Mass. There is a Parent retreat on October 13th from 1:30 pm to 4:30 pm for all families who have registered. The First Catechism Class will begin on October 21st.
We also have a Youth Group available for those in Grade 6 and up. It will be on Saturday evenings, after Mass.
Registration forms can be found at the back of the Church after all Masses, on the Parish website under Children's Religious Education, or at the office. Please bring completed forms and $25 payment (per child) to the Parish Office. The Catechism Calendar Year Schedule will also be found there when it is available.
God Bless,
Our Catechism Journey Team
Children who were in the Grade 2 class last year MUST register again for Grade 3. A copy of your child's Baptism Certificate is required upon registration (if we do not already have a copy on file).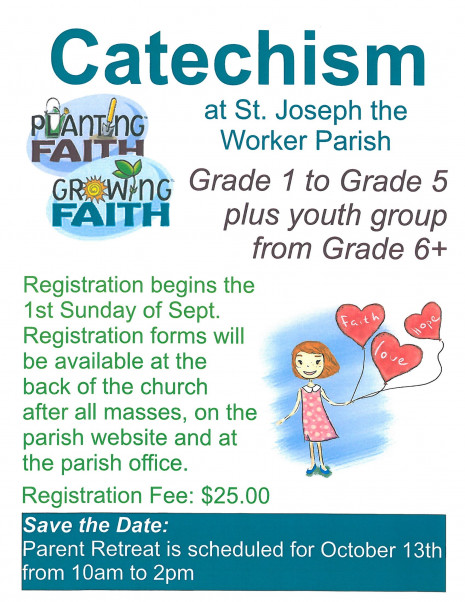 *Please note that the Parent Retreat time has been changed to:
*1:30pm to 4:30pm
Below is the schedule for the Parents and teachers retreat held on October 13th from 1:30-4:30 in the church hall:
1:00 set up
1:30-2 socializing and mingle coffee and tea
2:00 welcome and quick intros
2:15-2:45 reflection on community and sacraments by father Alfie
2:45-3:00 break (refreshments and snack provided)
3:00-3:15 Divine Mercy chaplet
3:15-4:00 general information and schedule of the year
4:00-4:30 meet the teacher by grade and small group discussion.
Thank you to all and God bless your families.
Reine MYKYTE
St Joseph The Worker Catechism Coordinator
---
This year we will have a Children's Mass every first Sunday of the month, from October to May.
---
We are seeking a Grade 1 Catechism teacher to be part of our awesome team. Commitment is every Sunday morning (Oct - May) , prior to 10:00 am Mass. Please contact Reine at 250 - 884 - 7100 or reine_and_ian@hotmail.com
---
Please click on link below for a paper copy of registration form that you can print off, complete and bring to church on Sunday or to the office during the weekdays (Tuesday through Friday):
Catechism Registration Form 2018 - 2019
Please click on link below for a paper copy of the Diocese Volunteer Application and Covenant of Care Forms that you can print off, complete and bring to the parish office (in person). Once this is done, you will be given a link and access code that you will require when submitting an online request. All Criminal Record Checks are now now completed on line.
Please click on link below to look at the Catechism Schedule for 2018-2019
not available yet
Please click on link below to look at the Catechism Schedule for Confirmation/First Holy Communion Year 2018 - 2019
not available yet