St. Joseph The Worker Parish
Welcome to the new St. Joseph The Worker Parish website.
Our new website is easier to use and is compatible with new devices like smart phones and tablets.
The content on our new website is organized a little differently than on our previous website. We have created a new "Quick Links" section on our home page to help you quickly navigate to some of the more popular areas of the website.
Our Mass Schedule for the upcoming 7 days is now available on every page of our website.
Parish events have been organized into our new Events Calendar.
You will also find information about our Faith in our new Ministries, Education, and Sacraments sections.
We will be adding new features and information to our web site over the upcoming weeks and months.
Ad space is now available on our website. Please contact the parish office for more information and pricing.
50th Anniversary Video
---
Noteworthy Reading
Reflection on the Sunday Gospel
Department of Justice Survey on Prostitution
March 11, 2014
Family Camp - Camp Barnard July 4-6 2014
January 22, 2014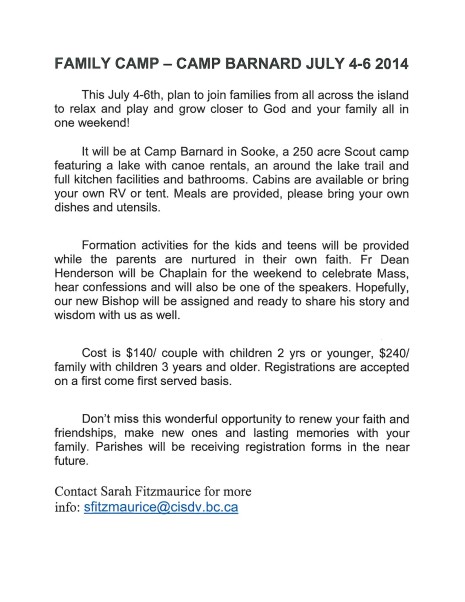 Upcoming Events
January 9, 2014
We have some exciting programs listed below:
Diocese of Victoria Pastoral Care Outreach Session 2 - Listening and Communication & Mental Health

Last session of Gospel of John Course on March 13th offered by Dr. Les McKeown

See our posters below to find out details and dates. Call the office 250-479-7413 to register.