St. Joseph The Worker Parish

Parish Office Regular Hours
Tuesday - Friday: 8:30am - 3:30pm
Saturday, Sunday, Monday: Closed
Phone: 250-479-7413
Fax: 250-479-7619
Email: sjtwparish@rcdvictoria.org
Message from the Chancery: Update January 20, 2022
Please see the latest update to the General and Liturgical Directives for churches during Covid-19, to be followed by all parishes in the Diocese of Victoria. Changes from the previous Directives are in bold and italics, and are also explained in the attached Memo from Bishop Gary Gordon. They are found by clicking:
Memo non-worship gatherings Jan 20 2022
General and Liturgical Directives Jan 20 2022 update
The requirements for worship services remain the same
Gatherings such as catechism, parish meetings, or receptions immediately following regular liturgical services may be held according to the requirements for worship services. However, we strongly recommend they are held virtually whenever possible
Wedding receptions, funeral receptions and gatherings for the purpose of acknowledging or celebrating a significant event (eg, baptism receptions) are not permitted in church buildings at this time
Non-worship gatherings in church buildings are now permitted as long as all regulations of the latest "Gatherings and Events" and "Face Coverings" Orders of the Provincial Health Officer are followed
Essential gatherings such as drug and alcohol support group meetings, or the distribution of food or other supplies to people in need, may happen in church buildings without any restrictions
---
Message from the Chancery: Impact of new COVID-19 restrictions December 22, 2021
Please find attached a memo from Bishop Gary Gordon regarding the impact on worship services and other church gatherings of the restrictions announced yesterday. To summarize:
The new restrictions do not impact worship services.]
Non-essential non-worship gatherings in church buildings are not permitted until January 18, 2022
Memo new restrictions Dec 22 2021
---
Memo Revised Directives and General and Liturgical Directives update December 7, 2021
Please click on link below to read a memo from Bishop Gary Gordon regarding new directives for maximum capacity and mask wearing during worship services:
Memo revised directives Dec 7 2021
Please click on link below to read the corresponding updated General and Liturgical Directives:
General and Liturgical Directives Dec 7 2021
---
Mass Live-Streamed on Saturday at 5:00pm
Rosary "Talks" on the Merits of Praying the Rosary Daily also live-streamed
Please click here for the link to livestream Masses and Rosary Talks
How to say the Rosary in the style of St Louis De Montfort
Our Lady's 15 Promises for Praying the Rosary with explanation
Posted on: January 26, 2022
Mental Health In Times Of Crisis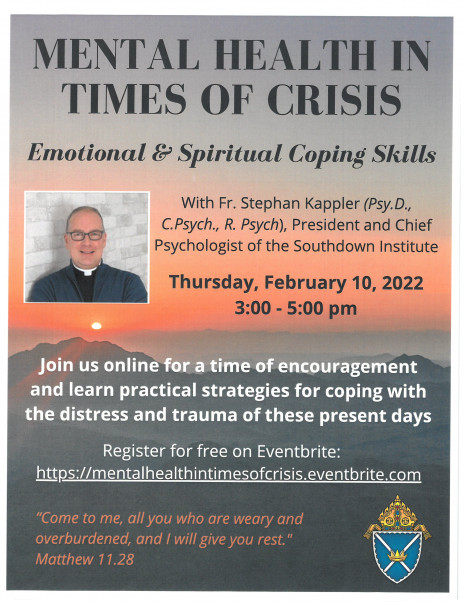 Posted on: January 26, 2022
A Special Mass in honour of Health Care Workers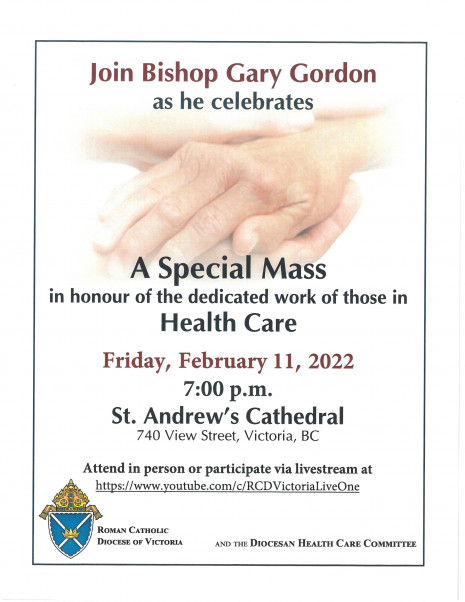 Posted on: January 26, 2022
Diocese of Victoria Homewood 2022
Faith Over Fear
A Virtual event for Youth in Gr. 8 - 12
Friday, February 4th to Saturday, February 5th.
Click below for more information.

CCCB - Resources
The CCCB collaborated with Salt+Light to produce and broadcast a special program entitled "A Catholic Response to Bill C-7". The English and French programs are available on the Salt+Light website at the following links:
---
Announcement:
There are numerous ways to learn more about Indigenous worldview, history and culture. This is just one you might wish to complete
Indigenous Canada
Indigenous Canada is a FREE12-lesson Massive Open Online Course from the Faculty of Native Studies, University of Alberta, that explores Indigenous histories and contemporary issues in Canada. From an Indigenous perspective, this course explores key issues facing Indigenous peoples today from a historical and critical perspective highlighting national and local Indigenous-settler relations. Topics for the 12 lessons include the fur trade and other exchange relationships, land claims and environmental impacts, legal systems and rights, political conflicts and alliances, Indigenous political activism, and contemporary Indigenous life, art and its expressions.
To register or for more information go to:
https://www.ualberta.ca/admissions-programs/online-courses/indigenous-canada/index.html
9-10 Club Serving Soup to Hungry Strategic Plan 2021 - 2023
The Soup Kitchen is a program of the 9-10 Club Serving Soup to the Hungry Society. The Society is a registered non-profit, non-denominational charity. Meal services started on Friday, November 12, 1982. It is the oldest, completely volunteer-run food resource for the hungry in Victoria.